Hot Product
Hydrocyclone Group

Hydrocyclone group is widely used in coal preparation plant...
Slurry Pump

Slurry pump is mainly used in mining, power plant, dredging, metallurgy...
Polyurethane Dewatering Screen Panel

In addition to the performance of...
Dewatering Screen Panels 0.125 mm Price
Date: 2021-04-14 From: Longding Author: admin
The dewatering screen panel 0.125mm is an important working part of the dewatering screen to complete the screening process. When the dewatering screen equipment vibrates, under the action of the vibration force, the dewatering screen panel separates materials of different shapes and sizes to achieve the purpose of classification.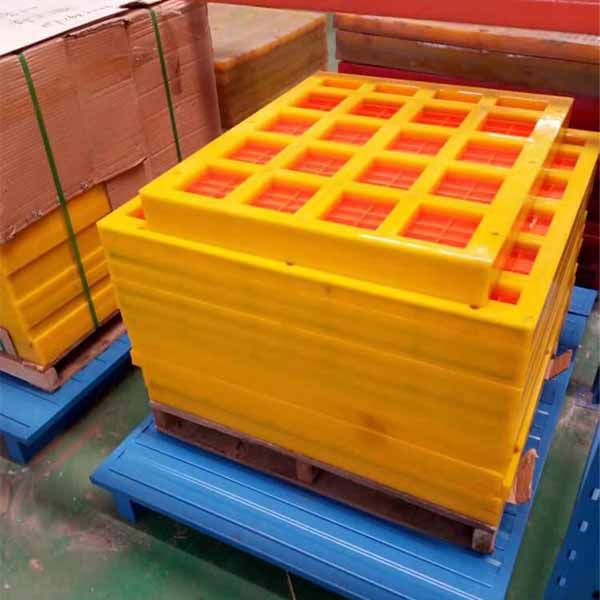 Polyurethane dewatering screen panel has very good moisture resistance and can work underwater standards. In the case of water, oil, and other substances, the frictional resistance between polyurethane and raw materials is reduced, which is more beneficial to screening and improves screening efficiency. In addition, the adhesion of particles is reduced, friction resistance is reduced, the damage is reduced, and the life of basic applications is increased.
Polyurethane dewatering screens are widely used in screening equipment in the metallurgical industry, mining, coal, decorative building materials, water conservancy projects, road construction, especially for the high frequency vibrating dewatering screen. Polyurethane screen belongs to the technical field of screening equipment, which is used to deal with the problems of low compressive strength and short service life of general metal wire mesh. Polyurethane screens are substitutes for thick steel plate punching machine stainless steel screen, stainless steel wire weaving, stainless steel screen, and vulcanized rubber grate. It has lightweight, no plugging, anti-friction, impact resistance, resilience and long service life, low noise, convenient installation, and good comprehensive economic benefits. Polyurethane has high compressive strength, bending rigidity, and bearing capacity, and can reasonably reduce vibration noise and increase the service life of the screen. The screening equipment can be made into many shapes, especially in the high-frequency vibrating screen suitable for electromagnetic induction stress vibration.
Leave a Message
Here you can submit any questions and we will get back to you as soon as possible. We will not disclose the information you submit to anyone, please rest assured.