Projects
Sand washing machine with hydrocyclone for sale

The cyclone technology is adopted...
How to choose vibrating screen panels ?

The application of vibrating screens...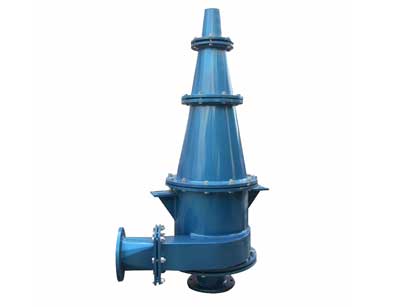 Hydrocyclone
Hydrocyclone is a kind of high-efficiency separation equipment which uses centrifugal force field to separate two-phase fluid. It is widely used in the classification, concentration, dehydration, desliming, separation and washing of black, non-ferrous metal, non-metallic and chemical mines.
Structure of Hydrocyclone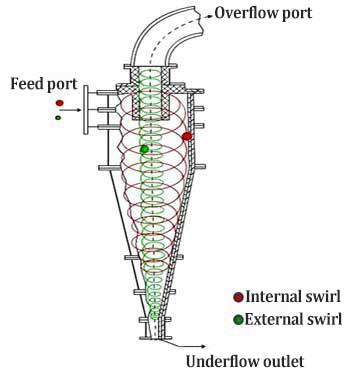 The upper part of the cone is conical; a feeding pipe tangent to the cylinder wall is installed on the cylindrical cylinder; a central overflow pipe connected with the cylindrical part is installed on the upper part of the cone; the upper end of the overflow pipe is connected with the external pipe through the buffer chamber or directly to discharge the overflow; and a grit nozzle is installed at the bottom of the cone to discharge the coarse grit.
In order to reduce wear, wear-resistant rubber or diabase, cast stone, silicon carbide and other wear-resistant materials can be used in feed mouth, grit nozzle and inner wall of cylinder.
Hydrocyclone Working Principle
Under the action of pressure, the slurry enters the shell along the tangent direction of the cylinder through the feeding pipe, and makes a rotary movement in the shell. The coarse particles (or particles with high density) in the slurry enter the periphery of the rotary flow due to the greater centrifugal force, and flow downward with the slurry flow, and finally discharge from the bottom grit nozzle to become grit; the fine particles are in the center of the rotary flow and follow the liquid flow due to the smaller centrifugal force It moves on the skull and is finally discharged by the overflow pipe to become overflow.
Hydrocyclone Features
No moving parts, simple structure;
The production capacity per unit volume is large and the area is small;
High classification efficiency (up to 80% – 90%) and fine particle size;
Low cost and low material consumption. Its disadvantage is that the parts are damaged quickly;
High power consumption;
Feeding pressure, concentration and particle size have great influence on classification index.
Leave a Message
Here you can submit any questions and we will get back to you as soon as possible. We will not disclose the information you submit to anyone, please rest assured.