Projects
Sand washing machine with hydrocyclone for sale

The cyclone technology is adopted...
How to choose vibrating screen panels ?

The application of vibrating screens...
Vibrating Screen Mesh
The vibrating screen mesh is made of manganese steel wire, which has the characteristics of the flat surface, uniform mesh, high wear resistance, high strength and stable structure, good corrosion resistance, and good processing performance.
Vibrating Screen Mesh Introduction
The vibrating screen mesh is mainly used for circular vibrating screens. The woven structure of the screen is pre-bent into corrugated metal wires, so that the two bends are stuck in the same position to ensure the size of the mesh. The vibrating screen mesh has two-way corrugated bending, locking bending, two-way isolation bending, flat top bending, and one-way corrugated bending, and a solid structure.
The vibrating screen mesh is mainly used to screen 10-200mm granular materials. Materials with large specific gravity and large particles have good effect. The square mesh is the most common vibrating screen mesh, and its opening rate is as high as 70% of the total area. The effective sieving area is larger than that of the round-hole sieve, and it is not easy to block holes in the sieving, and the screen penetration rate is high, and the productivity is also high. However, it also has disadvantages: compared with the punching plate, it has poor firmness, short life, and is easy to deform during use.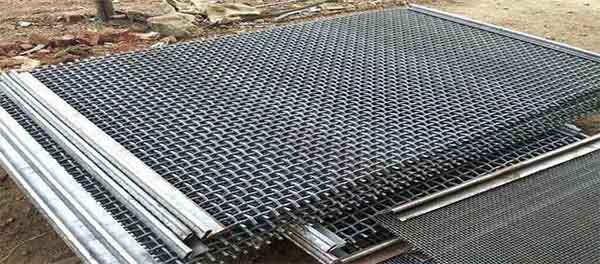 Vibrating Screen Mesh Features
1. High practical opening, and high screening efficiency.
2. Unique structure. Appropriate elastic and plastic forces can not only reduce jamming but also reduce sticking.
3. There are elastic tension hooks on both sides of the screen, which are easy to install and disassemble.
4. The vibrating screen mesh can effectively absorb impact, reduce noise and improve the working environment.
Leave a Message
Here you can submit any questions and we will get back to you as soon as possible. We will not disclose the information you submit to anyone, please rest assured.