Hot Product
Hydrocyclone Group

Hydrocyclone group is widely used in coal preparation plant...
Slurry Pump

Slurry pump is mainly used in mining, power plant, dredging, metallurgy...
Polyurethane Dewatering Screen Panel

In addition to the performance of...
Four Types of Polyurethane Dewatering Screen
Date: 2021-05-11 From: Longding Author: admin
PU polyurethane dewatering screen is an elastomer material. Polyurethane raw materials are obtained from crude oil, and their properties are similar to those of beverage bottles. Polyurethane high-frequency screen has the characteristics of beautiful appearance design, high impact toughness, heat insulation, sound insulation, noise reduction, corrosion resistance, aging resistance, and lightweight.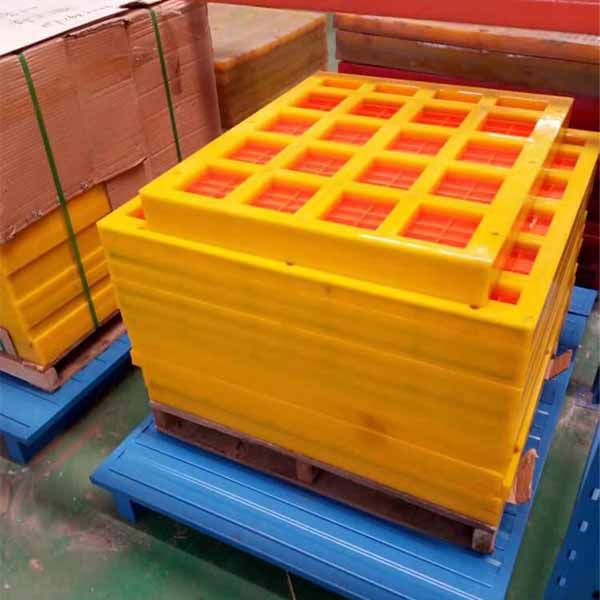 Four types
Polyurethane screens are generally divided into four types according to their structural forms
1. Embedded
2. Anchor bolt connection
3. Decorative strip connection
4. Screen hook connection
Comparison of polyurethane screen with general metal mesh
1. Large bearing capacity and long service life
The polyurethane screen has high elasticity and uses galvanized steel wire rope as the frame raw material. Therefore, it has high tensile strength, and its bearing capacity is 2.5 times that of stainless steel screen. The service life of polyurethane is 8-10 times longer than that of ordinary metal mesh, 3 times that of the stainless steel screen surface, and 3.9 times that of rubber. It is the raw material for the screen surface with good wear resistance at this stage. The raw material for the production of high-frequency polyurethane screens is a polymer material chemical polyurethane elastomer, which has good abrasion resistance and large bearing capacity.
2. Self-cleaning characteristics and does not block holes
Polyurethane has good leakage, and the round hole sieve has a large taper (140°), which can avoid the adhesion of wet and cold fine sand particles, so it is suitable for the classification of wet and cold fine sand raw materials.
Several aspects that need to be paid attention to when installing and applying Polyurethane dewatering screen
1. Prevent top edge leakage
2. Prevent mortar leakage and stainless steel screen damage
3. Anti-dislocation damage
4. Prevent the tension from being too loose
5. Check the support of the screen to prevent excessive support.
Matters need attention
1. Electric welding or ignition is strictly prohibited
2. Do not store under direct sunlight
3. Do not touch with thin iron wires
Leave a Message
Here you can submit any questions and we will get back to you as soon as possible. We will not disclose the information you submit to anyone, please rest assured.