Hot Product
Hydrocyclone Group

Hydrocyclone group is widely used in coal preparation plant...
Slurry Pump

Slurry pump is mainly used in mining, power plant, dredging, metallurgy...
Polyurethane Dewatering Screen Panel

In addition to the performance of...
Comparison Of Metal Lining And Rubber Lining In Application Of Slurry Pump
Date: 2022-11-07 From: Longding Author: admin
In iron and steel beneficiation, slurry transportation (including medium ore, concentrate and tailings) mainly relies on slurry pump to transport, so the quality of slurry pump is also increasingly high. The application of slurry pump in iron ore is divided into metal pump and rubber pump (lining rubber pump) according to the flow parts. Metal pump is the main position, rubber pump is mainly introduced by Warman technology, currently in the auxiliary position.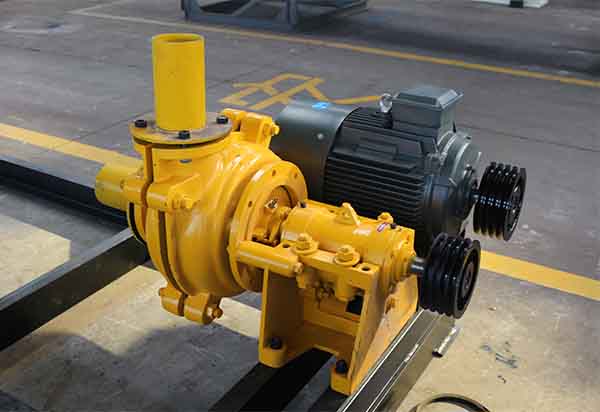 In the application
Generally, rubber can be used to transport the maximum particle less than 10mm slurry pump. Its wear resistance is better than that of metal materials, so the transportation of fine particle slurry without edges and corners is mostly used glue pump. When the particles are irregular and angular, metal pumps should be selected. Because of the rubber pump, the angular particles are easy to tear the rubber, resulting in the damage of the rubber pump, this situation is particularly obvious on the iron ore. And in some non-ferrous metal mines, such as gold mines, because the particles are more regular, circular and oval particles are more, so there is no tearing phenomenon of rubber pump, and because the price of rubber pump is lower than that of metal pump, so in gold mines, rubber pump is more widely used.
Parameter
Because of the structure and the hanging process, the size of the rubber pump is smaller than that of the metal pump. Few large size rubber pumps are used in the field of mineral processing. For example: when Q > 1400m3/h, H > 40m, there is no suitable rubber pump available, and there are many types of metal pump available at this time.
Energy saving effect
Rubber pump because of the characteristics of rubber, rubber has a certain scalability, water and solid particle impact is easy to deformation, so the efficiency of rubber pump is generally lower than metal pump efficiency of 3~5%, so a rubber pump than metal pump cost more energy is easy to calculate.
Price
In general, the price of rubber pump is about 70~80% of the price of metal pump. When the application conditions are met and the power consumption is not considered, the user can give priority to the use of rubber pump.
Leave a Message
Here you can submit any questions and we will get back to you as soon as possible. We will not disclose the information you submit to anyone, please rest assured.