Hot Product
Hydrocyclone Group

Hydrocyclone group is widely used in coal preparation plant...
Slurry Pump

Slurry pump is mainly used in mining, power plant, dredging, metallurgy...
Polyurethane Dewatering Screen Panel

In addition to the performance of...
Features Of Wear-Resistant And Corrosion-Resistant Slurry Pump
Date: 2022-11-04 From: Longding Author: admin
Slurry pump is mainly used to transport large wear slurry, such as all kinds of mine tailings and so on. After beneficiation classification, no matter concentrate or tailings, are made of some solid grinding powder and water mixture, the transportation of these mixtures will be used slurry pump.
Due to the high-speed operation of the machine, the ordinary slurry pump is certainly unable to withstand the high strength friction of the slurry, so the pump material is required to have a relatively high wear-resisting degree. Therefore, the common overflow parts are mostly made of high chromium alloy material (such as A05,A49), which has high hardness and long service life. For some relatively weak wear or containing slightly corrosive slurry, wear-resistant rubber can be used, and the price is relatively cheaper than high chromium alloy.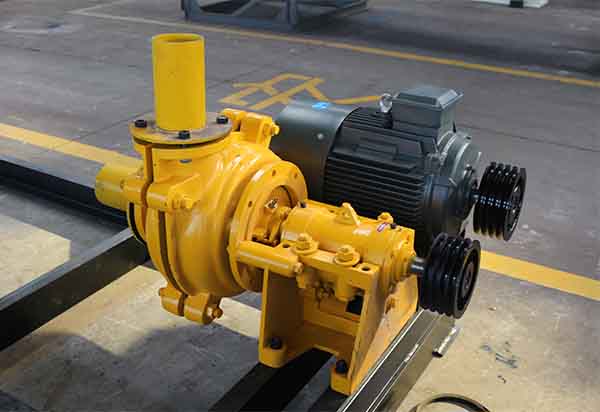 The material used by all models of slurry pump manufacturers is A05. The main attribute of this material is wear resistance, and the secondary attribute is corrosion resistance (relatively ordinary material). If the conveying slurry is corrosive, we recommend the use of A49 material, which is mainly corrosion resistance, mainly used in flue gas desulfurization circulating pump impeller material.
Wear-resistant slurry pump is divided into horizontal slurry pump and vertical slurry pump. Relative to other pumps of ordinary materials, such as clean water pumps, slurry pump prices are often higher than the same size (such as the same weight) of the clean water pump. Because the main conveying medium of the ordinary pump is water, does not have the abrasive property, so the material is generally gray iron or ductile iron. And wear-resistant slurry pump is mostly made of Cr26-28 (also known as A05) chromium alloy material, good quality material also contains nickel, manganese, vanadium and other metal elements.
About 80% of the application of slurry pump in concentrator are used in concentrator of mining industry. In this section, the service life of slurry pump is generally low because of the bad ore primary condition. Therefore, the slurry pump flow parts are made of high chromium alloy material, which is the best wear-resistant material in the slurry pump industry at present. Of course, different ores have different abrasive properties. Such as in the concentrate transport and other sections of the relative abrasion is reduced, the overall service life of the pump is longer.
Leave a Message
Here you can submit any questions and we will get back to you as soon as possible. We will not disclose the information you submit to anyone, please rest assured.